Spotlight on Michigan's Downtowns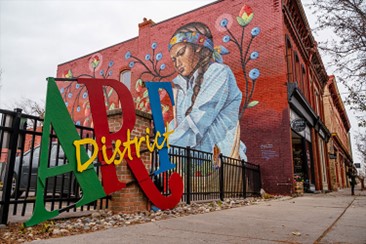 Celebrating 20 years of building stronger communities through Michigan Main Street
Since 2003, the Michigan Main Street program, administered by the Michigan Economic Development Corporation, has empowered the people of Michigan to get involved in the health of their communities while preserving the charm and history of our state. MMS provides technical assistance for communities desiring to develop their own local Main Street program by utilizing the Main Street Approach™ – a common-sense approach to tackling the complex issues of revitalization by capitalizing on a traditional downtown or commercial district's history and identifying the unique assets of the community itself. Since its inception, MMS has been a top coordinating program affiliated with the National Main Street Center, Main Street America, aiming to create communities distinguished by economically vital and vibrant commercial districts and downtowns, thereby developing attractive places that make the state economically stronger and culturally diverse.
The work of the MMS program to revitalize Michigan's historic traditional downtowns and commercial districts has impacted communities across the state, while also receiving national recognition.
In 2011,
Old Town Lansing was named the winner
of the
Great American Main Street Award
(GAMSA) by the National Main Street Center Inc (NMSC). Selected by a national jury of community development professionals and leaders in the fields of economic development and historic preservation, the GAMSA winners serve as exceptional models for comprehensive, preservation-based commercial district revitalization. Old Town Lansing won the GAMSA for its overall strength, demonstrated impact, commitment to historic preservation, and model partnerships with the public and private sector.
In 2018,
Howell was named the GAMSA winner
. The NMSC recognized Howell Main Street's achievement in transforming the downtown district into a cultural destination through community-driven economic development and placemaking efforts.
"Howell is a prime example of a small rural community that is doing big things. They have all the charm you'd expect in a historic Main Street community, but they don't stop there," said
Patrice Frey, former President and CEO of the National Main Street Center.
"Downtown Howell is setting itself apart as a supportive place for entrepreneurs and business owners and that's how we're seeing small communities stay competitive in today's economy."
In 2020,
Boyne City was presented the GAMSA award
, becoming the second Michigan community to win national Main Street recognition in three years. Boyne City was one of the first MMS program participants, with its Main Street program acting as a catalyst for economic development. Both Boyne City and Howell also participate in MEDC's Match on Main program and are certified in the state's complementary
Redevelopment Ready Communities
program.
Over the past year, Michigan Main Street communities generated more than $60.6 million in private investment, 131 new businesses and 174 façade and building improvements. For 20 years, Michigan Main Street has been a catalyst for job growth, private investment, and community engagement leading to comprehensive economic development creating more vibrant downtowns and traditional commercial districts in Michigan. From 2003 through 2023, 1,753 new businesses have been launched, with a total public investment of more than $137 million and total private investment of $407 million. In addition, more than 851,890 volunteer hours have been recorded by Michigan Main Street communities in revitalizing downtowns across the state.
"Time and time again, we have seen communities using the tools and resources available through the Michigan Main Street program to drive economic change, support local business and improve amenities for local residents," said
MEDC Executive Vice President of Economic Development Incentives Michele Wildman
.
"
From Sault Ste. Marie to Cheboygan to Blissfield, and from downtown Lansing to Niles, there are exciting things happening in Michigan's Main Street communities."

Alpena: A model community for downtown best practices
Downtown Alpena
Alpena has been working for years to build on its heritage of cultural and commercial success. Born directly from the city's residents, businesses, and officials, Alpena's continuous improvement is driven by its people.
This holistic, community-driven approach weaves naturally into the services and support of the Michigan Economic Development Corporation. And the result is a strong, vibrant community ready to support business, attract and retain talent and remain a beacon of opportunity in Michigan.
Redevelopment Assistance
Alpena was one of the first communities in the region to become a Redevelopment Ready Community® (RRC), which signals a streamlined process for redevelopment opportunities to keep the city vibrant and competitive.
Since receiving its certification, the city of Alpena has been able to hire a new city manager and planning director and gained new council leadership. The city also continues to use the tools developed through the RRC program, including predevelopment meetings, changes to public participation, virtual shopping events and online training for businesses affected by COVID-19.
Historic Preservation Assistance
As a partner in preservation, the State Historic Preservation Office (SHPO) works with property owners, developers and local and state agencies to celebrate and rehabilitate historic places that define local communities and make our state uniquely Michigan.
Recently, members of the city of Alpena, Historic District members, the Downtown Development Authority director, and others, met with SHPO to reactivate the city's preservation efforts as a part of broader community development. This work includes an upcoming nomination for the Downtown Alpena Historic District, about 40 buildings, to potentially allow property owners to use tax incentives and other preservation opportunities.
Arts and Culture Assistance
Alpena has a rich heritage as an industrial town. Yet, arts and culture have become an economic driver for the area, thanks in part to state funding provided by Michigan Arts and Culture Council (MACC) to local arts organizations.
The arts community is working together to enrich the quality of life for the residents in the region through the development of high-quality productions, educational programming for all ages and a wide range of art exhibits and cultural events.
"The MEDC has been an invaluable partner to bring these projects to life in Alpena," said
Alpena Downtown Development Authority Executive Director Anne Gentry.
"Through technical support programs, they have helped us set the vision for what our community can be, and through various funding programs, they have helped local organizations bring that vision to life. You can see the effects of their investment throughout Alpena—from public art projects to dog parks, lighthouse restorations to historic rehabilitation projects. We are grateful for their support to improve our downtown!"
Building long-term success in a community takes time, but Alpena has been hard at work to better its community and the evidence is all across town.
Recent projects include:
1. Thunder Bay Theatre Inc. (400 N. Second St.)
Constructed more than 100 years ago, this is the only professional theater in northeast Michigan. Once an ongoing recipient of funds to develop arts and culture, the theater provided performing arts to over 6,000 visitors annually. Unfortunately, a fire resulted in water and smoke damage throughout the building. The theater expects support approval to restore its historic façade, renovate the lobby and upstairs and other building updates so Thunder Bay Theatre can again bring arts and cultural programming to the region.
2. Thunder Bay Light Station (Thunder Bay Island)
The Thunder Bay Island Light Station, built in the mid-1800s buildings, began to deteriorate when the light station was automated, and personnel were removed. In 1996, the Thunder Bay Island Preservation Society (TBIPS) was formed to educate, preserve and restore Thunder Bay Island. A long-term, largely volunteer effort, TBIPS partnered with SHPO every step of the way for planning, roof replacement projects and significant repair work to the keepers' quarters, fog signal building and light tower. To mark the success of the long-term stewardship, the Thunder Bay Light Station was recognized with a prestigious Governor's Award for Historic Preservation in 2021.
Resilient Lakeshore Heritage Grant Program: $100,000
Michigan Lighthouse Assistance Program Grant: $90,000
3. "Make a Splash for Art" Mural (628 W. Chisholm St.)
"Make a Splash for Art" is a 1,815-square-foot mural project coordinated by Art in the Loft, under the direction of professional mural artist Tony Hendrick. One-hundred fifty-two patrons donated to the mural's funding campaign that the MEDC matched. The mural is the backdrop for 13 super-size, colorful, and whimsical 3-D fish designed by members of the community and sculpted by Hendrick. The aquascape depicts life below the water and echoes Alpena's mission to provide a creative haven to rejuvenate and find shelter from the storms of daily life.
Public Spaces Community Places Matching: $12,500
4. Priority Redevelopment Ready Site (310 N. Second Ave.)
This site comes with a report including a site assessment, recommendations in line with the community's master plan, the relative condition of the building and an estimated cost of redevelopment and potential incentives to remove barriers for redevelopment.
"Our mission at MEDC is to empower communities so they can proactively shape their future; a future built on a solid foundation of retaining and attracting business investment and talent," said
MEDC Managing Director of Technical Assistance Programs Michelle Parkkonen
. "Alpena's dedication to continuous improvement and community-focused development will yield desired results for years to come. We are pleased to provide resources to communities willing to invest in themselves to prepare for the future."
For information on all MEDC community development programs,
visit here
.
To see why businesses are choosing Michigan,
visit here
.
For more Michigan economic development news,
visit here.